Services we provide
It is almost impossible to provide a complete list of all the printing services we provide. However, listed below are some of the more common printing needs that Sarkis Printing & Bindery Services would be pleased to perform for you or your organization: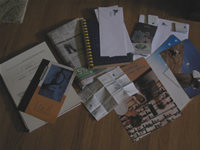 Advertisements
Banners
Booklets
Brochures
Business Cards
Calendars
Copying (Color and B&W)
Covers
Digital printing/copies
Envelopes
Flyers
Folders
Forms
Inserts
Invitations (parties, corporate, weddings, etc.)
Labels
Lamination
Letterhead
Name tags
Newsletters
Posters
Reports
Spiral binding
Shrink wrapping
Tabs
The above is not meant to be an exhaustive list, but rather it is intended to give you an idea about some of the common printing tasks requested by our customers. If you want something printed, even if it is not listed above, please contact us and we will work on a solution to your printing needs.

Sarkis Printing & Bindery Services
P.O. Box 64821
Rochester, NY 14624
Phone: (585) 703-0310